Chilam Balam rock climbing destination
Calling all rock climbing enthusiasts. Do you know that just 5 minutes away from Cortijo Sabila is a top technical rock climbing destination Chilam-Balam? And a second amazing La Rubia route (graded 8c)
You reach this stunning rock formation from
Villaneuva del Rosario
, our local village. And it's been climbed by some of the world's best climbers.
Named after an ancient Mayan story, Chilam-Balam is a traversing, 270-foot super-pitch of overhanging stamina climbing on tufas and colonettes with several bouldering cruxes. There is also a
cave
there to visit with 4 vertical routes on the front face of the cave on so/so rock, but the cave itself is all about steepness.
On July 4 2003, Spaniard Bernabé Fernández claimed the first ascent of Chilam Balam although not without some controversy. Since then many routes and proposed gradings have been put forward (technically it is said to be a 9a+/9b).
Nov 16th 2015 Dani Andrada (the Spanish climbing machine) completed the fourth ascent of Chilam Balam.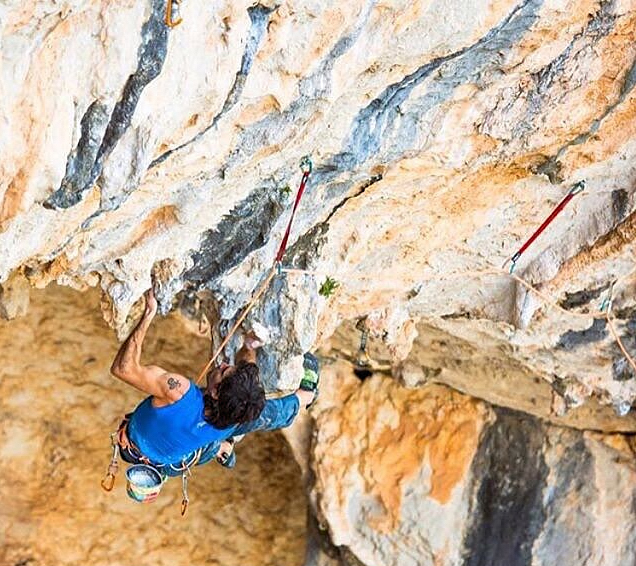 Photo by @davidlopezcampe!
Watch this incredible climb by Black Diamond athlete Adam Ondra in 2011. Adam is a Czech professional 
rock climber
, recognised as one of the best in the world, specializing in 
lead climbing
 and 
bouldering
. Described in 2013 as a prodigy, he went on to win the 
World Championship
 titles in both climbing disciplines in the same year (2014). He is also the only male athlete to have won the 
World Cup
 series in both disciplines (lead climbing in 2009, 2015 and 2019, and bouldering in 2010). Read more about him
here
and join his
instagram
.
There are many documented routes – to see more visit
this page
 and click on any of the numbers for more information.
And for those not quite up to this technical challenge, there are some beautiful hikes at all times of the year. We will post more about that later.